MUSIC LESSONS · INSTRUMENT SALES & RENTALS
THE MUSIC TREE SCHOOL OF MUSIC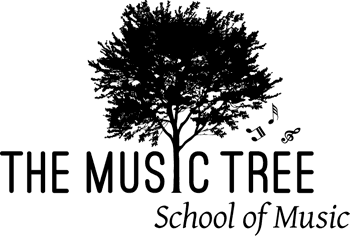 We offer weekly, private lessons for all instruments and voice throughout the year. Our instructors teach traditional one-on-one music lessons using the most up to date and research-based methods, which include reading music, proper technique, music theory and composition.

Our diverse faculty welcomes students of all levels in all musical styles. Some minimum age requirements apply, but may be adjusted based on the individual student.

Students bring their own instruments, with the exception of piano and drums. Our studios are equipped with acoustic pianos, electric drum sets, amplifiers for electric bass and guitar, and devices to play CDs and iPods.

Our beautiful, sunlit waiting lounge allows parents and friends to relax in comfort. Plenty of safe parking is always available.
Each of our piano lessons takes place on an acoustic piano.
Our piano students begin their studies with the nationally-acclaimed, student-centered Faber Piano Adventures series. More advanced students move on to study classical piano literature, jazz, or popular music according to their individual musical interests.
Minimum age: 5 years old
Our voice instructors offer developmentally-appropriate vocal coaching, audition preparation, and traditional voice training for all voices and ages. Many of them can provide piano accompaniment. Whether you are interested in singing liturgical music, popular songs, or show tunes, we have an instructor for you!

Traditional voice curriculum can generally begin at the 6th grade or early teenage years. Younger students may be enrolled for lessons, but will focus on exercises and songs appropriate for developing voices.
GUITAR, BASS, BANJO & UKULELE
Our guitar, bass, banjo, and ukulele faculty specialize in genres such as classical, jazz, blues, folk, and rock. Many of them are local performing artists, and some have toured the nation with their bands.

Each studio is equipped with amplifiers for use with electric guitars and basses.

Our younger guitar students study the FJH Young Beginner Guitar Method, which is supplemented with songs of their own choosing.

Minimum age: 7 years old (6 if they have had a year or more of guitar study elsewhere, subject to the availability of a faculty member who specializes in early childhood education.)
Our multi-talented wind instructors offer lessons in flute, clarinet, saxophone, trumpet, trombone, French horn, and other beloved instruments.

Studies on wind instruments are highly individualized, but may include the use of the Essential Elements or Rubank methods.

Minimum age: 8 years old (4th grade)
Our violin, viola, and cello instructors are available to teach classical, folk/fiddle, and popular genres on their instruments.
Traditional methods used by our instructors include Suzuki, All For Strings, and Samuel Applebaum's String Builder series.
Minimum age: 6 years old
Our drum studio is equipped with high quality electric drum sets. Instructor specialties include symphonic percussion, folk/world percussion, latin, and rock.
Minimum age: 7 years old (1st grade), and big enough to sit at a full-size drum set
Didn't see your instrument listed on this page? Contact us for more information.
Call 804-571-1973 or email us at info@themusictreeschool.com with any questions about our school or lessons: